Collaboration for Interoperability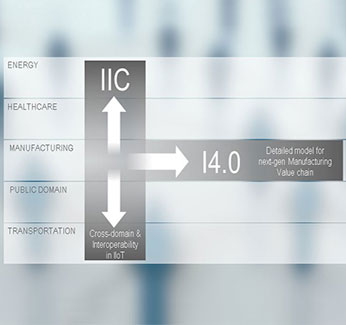 While the Industrial Internet Consortium advances the adoption of the Industrial Internet on a global scale with our cross-industry oriented approach, Plattform Industrie 4.0 has been coordinating the shaping of the Industrie 4.0-driven digital structural shift of German industry. This cooperation is an important milestone in the global advancement of the digitalization of industrial production.
As background, the Industrial Internet Consortium and Plattform Industrie 4.0 independently developed our own reference architectures for the Industrial Internet: Plattform Industrie 4.0's Reference Architecture Model for Industrie 4.0 (RAMI4.0) and our Industrial Internet Reference Architecture (IIRA). Conversations developed as to how these two approaches relate to each other. In 2015, representatives from both organizations began meeting to:
Explore the potential alignment of their two architecture efforts
Understand the technical issues from both perspectives and
Reduce market confusion
Today, the Industrial Internet Consortium and Plattform Industrie 4.0 have developed an ongoing collaboration:
for the benefit of interoperability of Industrial Internet systems from the different domains to maintain a technical exchange
to identify mappings, differences and enhancements on both sides
to formulate requirements for standardization bodies together
to create a joint testbed for testing architectural elements
to work together to increase the adoption of the Industrial Internet
Meetings between technical experts and members of both organizations continue, virtually and in various locations around the world. In early 2016, we partnered with Plattform Industrie 4.0, VDMA and ZVEI at Hannover Messe 2016 to present a very successful Forum further showcasing our common goals and our members' achievements in IIoT. On May 19, 2016, we met in Chicago to design a roadmap for concrete results.
Working together, we have recognized the complementary nature of the two reference architectures, created an initial draft mapping showing the direct relationships between elements of the models and developed a clear roadmap to ensure future interoperability.
The most recent development took place on Sept 21, 2016 at SAP SE headquarters in St. Leon-Rot, Germany. The Industrial Internet Consortium and Plattform Industrie 4.0 conducted a joint Forum and Workshops, hosted by SAP and Bosch. Dr. Volkmar Denner, Chairman of the Board of Management, Robert Bosch GmbH, was one of the many distinguished presenters. His presentation on Managing the IIoT Value Chain is now available here. See the agenda of this successful event here.
As more news emerges from our collaboration, we will post highlights here.