Join the Industrial Internet Consortium and our Members at IoT Solutions World Congress!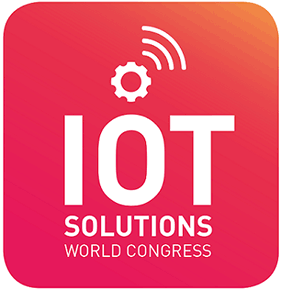 WHEN:16-18 October, 2018
WHERE:Fira Barcelona, Gran Via Venue,
Barcelona, Spain
LOCATION:Hall 2, Stand D411
In its fourth year, the event has grown to become the global reference for industrial IoT and the annual meeting for industry stakeholders to establish new partnerships. With an exhibition spanning 2 halls across 32,000m2 featuring 300 exhibitors and a Congress boasting 300 top-level speakers, the 2018 IoT Solutions World Congress will continue to explore the latest industrial IoT innovations to bring visitors the necessary cutting-edge expertise and strategies to capitalize on IoT.
The Industrial Internet Consortium and Fira Barcelona partner once again to present the IoT Solutions World Congress and our members and leaders are participating in many ways: Keynote presenters, Program Committee Members, Advisory Board Members, Member Pavilion and Independent Exhibitors and Testbeds.
IoT Solutions World Congress is co-located with Blockchain Solutions World and AI & Cognitive Systems Forum.
See passes and prices here.
Launch of Resource Hub
At IOTSWC, we will launch the IIC Resource Hub, a new interface to our library of knowledge and a web-based tool guiding users through the analysis and planning of their own IIoT projects, referencing IIC resources and providing actionable intelligence. This library of knowledge is represented in IIC architecture and frameworks, testbed insights, toolkits, demos and relationships with standards and industry groups around the world. The IIC Member Pavilion will feature a demonstration of the Resource Hub designed to make it easier for IIoT project managers and system architects to access the IIC library of knowledge.
The Industrial Internet Consortium Member Pavilion
Again in 2018, a group of our members will exhibit in the Industrial Internet Consortium Pavilion.
Members exhibiting in the Industrial Internet Consortium Pavilion include: AASA, Asavie, Basler AG, Entrust Datacard, FogHorn Systems, Fraunhofer IOSB, Juniper Networks, Kx Systems, LHP Engineering Solutions, Linaro, Lynx Software, Moxa, Inc., NetApp, Real-Time Innovations (RTI), Rubicon Labs, TCS/Net Foundry, Thales eSecurity, Wibu-Systems and others.
Also displayed in the IIC Pavilion will be our Smart Factory Web Testbed and our Automotive Security Demonstration.
Automotive Security Demonstration
Our pavilion will host a live automotive security demonstration developed by members of the Industrial Internet Consortium to address the universal automotive pain-points of safety violations resulting from cybersecurity compromises.
Among other aspects demonstrated on the vehicle in our pavilion, the automotive security demonstration:
Validates assurance scenarios for safety and cybersecurity within a vehicle
Orchestrates security threat and vulnerability compromises in the vehicle
Includes a LiFi-based V2X wireless communication system, transmitting real-time data about brakes, steering and safety and security
IoT Solutions Awards
IOT Solutions Awards will recognize the most innovative and impactful projects that have been developed over the course of the year. For more information, click here.
members speaking at the congress
Many IoT thought leaders will be representing the Industrial Internet Consortium from a wide variety of fields that includes manufacturing, energy, transportation and more. Visit the Congress agenda and full list of speakers for more details.
Speakers at the Congress include those from the following member companies:
| | |
| --- | --- |
| AASA | ABB |
| Accenture | Advansys ESC |
| Bosch SI | Cisco |
| Dell EMC | Ericsson |
| Foghorn Systems | Huawei Technologies |
| Intel | Kaspersky Labs |
| LHP Engineering | Microsoft |
| Mitsubishi Electric | Moxa |
| Oracle | Real-Time Innovations (RTI) |
| Rockwell Automation | SAP SE |
| SAS Institute | Siemens |
| VIMANA | Wibu-Systems |
| Wipro | |
IoTSWC 2018 Recap
IoT Solutions World Congress 2018 saw a 25% increase in visitors from last year, with 16,250 visitors representing 341 companies attending the trade show. The IIC was well-represented at the Congress, which had speakers from 25 member companies give keynotes and participate in panel discussions. AI and blockchain were more heavily emphasized this year, with the inaugural AI & Cognitive Systems Forum being very well-attended.
MEET THE ADVISORY Board
A committee of experts is leading and promoting the event. Members of this board include industry visionaries, technology experts and executives who are committed to accelerating awareness and deployment of Internet of Things technologies. Meet the Advisory Board.