Join the Industrial Internet Consortium and our Members at IoT Solutions World Congress!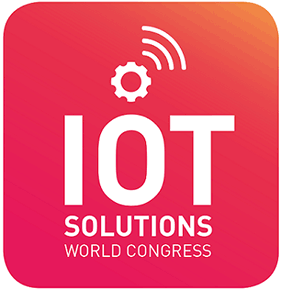 WHEN:29-31 October, 2019
WHERE:Fira Barcelona, Gran Via Venue,
Barcelona, Spain
LOCATION:TBA
In its fourth year, the event grew to become the global reference for industrial IoT and the annual meeting for industry stakeholders to establish new partnerships. With an exhibition spanning 2 halls across 32,000m2 featuring 300 exhibitors and a Congress boasting 300 top-level speakers, the 2019 IoT Solutions World Congress will continue to explore the latest industrial IoT innovations to bring visitors the necessary cutting-edge expertise and strategies to capitalize on IoT.
The Industrial Internet Consortium and Fira Barcelona partner once again to present the IoT Solutions World Congress and our members and leaders are participating in many ways: Keynote presenters, Program Committee Members, Advisory Board Members, Member Pavilion and Independent Exhibitors and Testbeds.
IoT Solutions World Congress is co-located with Blockchain Solutions World and AI & Cognitive Systems Forum.
See passes and prices here.
The Industrial Internet Consortium Member Pavilion
Again in 2019, a group of our members will exhibit in the Industrial Internet Consortium Pavilion.
Members exhibiting in the Industrial Internet Consortium Pavilion: TBA
Also displayed in the IIC Pavilion will be various testbeds and demos.
IoT Solutions Awards
IOT Solutions Awards will recognize the most innovative and impactful projects that have been developed over the course of the year. For more information, click here.
members speaking at the congress
Many IoT thought leaders will be representing the Industrial Internet Consortium from a wide variety of fields that includes manufacturing, energy, transportation and more. Visit the Congress agenda and full list of speakers for more details.
Industry Guidance Workshops, offered by the Industrial Internet Consortium
For over five years, global experts from across all industries have been collaborating within the Industrial Internet Consortium (IIC) to develop essential resources so project managers and system architects do not need to rely on intuition and prototyping in uncharted territory. Leading experts and authors from the IIC will conduct workshops at IOTSWC to guide end users, system integrators, managers, architects and others in project planning, maturity modeling, security assessment, design and implementation of industrial internet systems. These workshops include industry best practices developed from applying the Industrial Internet Reference Architecture, Security Framework, Business Strategy and Innovation Framework, Industrial IoT Analytics Framework, Connectivity Framework and Security Maturity Model.
IoTSWC 2018 Recap
IoT Solutions World Congress 2018 saw a 25% increase in visitors from last year, with 16,250 visitors representing 341 companies attending the trade show. The IIC was well-represented at the Congress, which had speakers from 25 member companies give keynotes and participate in panel discussions. AI and blockchain were more heavily emphasized this year, with the inaugural AI & Cognitive Systems Forum being very well-attended.
MEET THE ADVISORY Board
A committee of experts is leading and promoting the event. Members of this board include industry visionaries, technology experts and executives who are committed to accelerating awareness and deployment of Internet of Things technologies. Meet the Advisory Board.