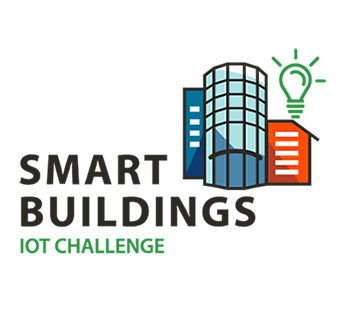 The Smart Buildings Challenge is designed to help advance the digitalization of the smart buildings industry. The winners of the 2020 Challenge were announced on February 19.
Download the IIC Summary Report:

Today's smart buildings are beginning to leverage the industrial internet for improved business outcomes, such as better energy efficiency, improved occupant experience and lower operational costs. They may contain thousands of sensors measuring various building operating parameters including temperature, humidity, occupancy, energy usage, keycard readers, parking space occupancy, fire, smoke, flood, security, elevators and air quality.
These sensors collectively capture massive amounts of data that must be transmitted, stored, analyzed and acted upon, often in real-time, to provide a truly smart building experience. These actions require thousands of actuators capable of exercising fine-granularity control over lighting, environment, security, safety and building systems. Some of this processing and actuating is extremely time-sensitive, but some applications are so bandwidth-intensive that they would swamp the building's fiber access bandwidth.
The Smart Buildings Challenge is designed to give smart building technology suppliers the flexibility to collaborate with their customers to create more targeted, outcome-based solutions. Our goal is to help overcome existing technology barriers to address the high volume of untapped opportunities in the market. Initial use cases for the Challenge include:
Smart Space Flow Analytics: Tracking, Zones, Anonymized Tracking
Smart Metering in Multi-Tenant Commercial Buildings: Smart Metering, Energy Consumption, Focus on Electric Energy
Smart Automated Building: HVAC, Control Technical Equipment, Demand Oriented Control of Equipment, Sustainability
Smart Building Cockpit: Management Tool, Sales Tool, Overview, Digital Twin, AR
Challenge Partners
In the 2020 Challenge, the Principals of the Challenge were Deka Immobilien's Real Estate Asset Management Division, ECE, and TÜV SÜD. The Enabling Technology Partners were Bosch, Microsoft and Security and Safety Things.
If your organization can offer enabling technology for the next Smart Buildings Challenge, please click here to explore opportunities to participate as an Enabling Technology Partner. For an overview of the different roles and contributions of the challenge participants, review the descriptions on our IoT Challenges webpage.
Partner Contributions to the Challenge
ECE
ECE has five decades of experience in the planning, realization, leasing and management of shopping centers. The company successfully transferred this expertise to the development of office buildings, company headquarters, hotels, residential projects, logistics centers and traffic properties. With our detailed knowledge about the shopping center market and our insights of the center assets we can provide all participants with relevant technical and business information.
TÜV SÜD
More than 24,000 employees work at over 1,000 locations in about 50 countries to continually improve technology, systems and expertise. The TÜV SÜD team would like to offer support to the start-ups with technical domain knowhow related to building parameters, quality and safety relevant aspects of building operations and regulatory knowhow, such as GDPR compliance. Additionally, the TÜV SÜD team can exchange experience related to asset and property management, building automation topology, BIM management and sustainable building construction and operation. Additional requests are welcome. Our team is looking forward to a great collaboration. 
Deka Immobilien
Deka Immobilien is one of Europe's largest commercial real estate investors with over €37 billion in assets under management, including 28 shopping centers worldwide. Through these workshops, we want to provide participants with the building owner's perspective, both in terms of the economics and risk of an investment and the technical challenges of implementation. 
Bosch Building Technologies
Bosch Building Technologies is a leading global supplier of security, safety, and communications products and systems, also offering solutions and services for building security, energy efficiency and building automation in selected countries. As an Enabling Technology Partner of the Smart Buildings Challenge, Bosch offers consultancy and domain expertise in the fields of technology, business case validation and product development.
Microsoft
Microsoft is one of the leading cloud providers globally. With Azure Microsoft provides an ever-expanding set of cloud computing services to help organization meet its business challenges. Azure gives you the freedom to build, manage, and deploy applications on a massive, global network using your preferred tools and frameworks. In the Challenge, we provide technical guidance and architectural reviews, development support for cloud migration and initial cloud setup and resources to host your application.
Security and Safety Things
Security and Safety Things is a Bosch IoT Start-up, accelerating innovation by building the first truly open platform for security cameras to establish a strong open ecosystem. In a nutshell: What Google has done in the smartphone market with Android and Google Play, Security and Safety Things is striving to do in the market for security cameras, advanced analytics and beyond.
We provide participants cameras for prototyping and a development environment as well as documentation to realize video-based analytics for the retail, transportation and commercial buildings industry.
2020 Finalists
Here are the Finalists of the 2020 Smart Buildings Challenge.
The winners were announced at Bosch Connected World in Berlin on February 19, 2020. Here are the winners for each use case.
For more information, read the Press Release: