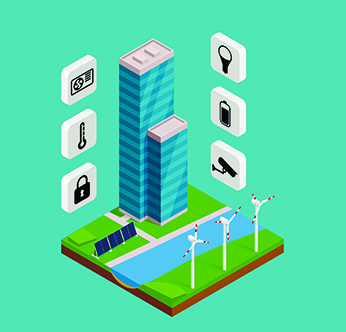 Today's smart buildings are beginning to leverage the industrial internet for improved business outcomes, such as better energy efficiency, improved occupant experience and lower operational costs. They may contain thousands of sensors measuring various building operating parameters including temperature, humidity, occupancy, energy usage, keycard readers, parking space occupancy, fire, smoke, flood, security, elevators and air quality.
These sensors collectively capture massive amounts of data that must be transmitted, stored, analyzed and acted upon, often in real-time, to provide a truly smart building experience. These actions require thousands of actuators capable of exercising fine-granularity control over lighting, environment, security, safety and building systems. Some of this processing and actuating is extremely time-sensitive, but some applications are so bandwidth-intensive that they would swamp the building's fiber access bandwidth.
The Smart Buildings Challenge is designed to give smart building technology suppliers the flexibility to collaborate with their customers to create more targeted, outcome-based solutions. Our goal is to help overcome existing technology barriers to address the high volume of untapped opportunities in the market. Initial use cases for the Challenge include:
Smart Space Flow Analytics: Tracking, Zones, Anonymized Tracking
Smart Metering in Multi-Tenant Commercial Buildings: Smart Metering, Energy Consumption, Focus on Electric Energy
Smart Automated Building: HVAC, Control Technical Equipment, Demand Oriented Control of Equipment, Sustainability
Smart Building Dashboard: Management Tool, Sales Tool, Overview, Digital Twin, AR
Contestants
The Challenge is open to vendors, organizations, teams and individuals worldwide. The winners are selected by jury and prizes include a customer Proof of Concept with a Principal Partner.
Dear Contestants:
To enter the Challenge, please follow the three steps below. The deadline for entries has been extended to September 6, 2019. Please bookmark this page for frequent updates. And good luck!
Please submit all documents to [email protected].
Step 1 - Read & Sign These Documents
*Your signature/confirmation is required.
Step 2 - Submit the Contestant Agreement
Approve the Contestant Agreement
Step 3 - Submit your entry using the Submission Template
Email the completed template to [email protected]
NOTE: This template is used multiple times over the course of the Challenge. The first use is to submit your preliminary entry where the target use case must be identified. The first submission should reflect a reasonable assessment of the problem and your solution. As the Challenge progresses, there will be additional, announced, opportunities to offer updated submissions, with the final submission of your solution due on February 1, 2020.
The proposed Challenge timeline is offered at left.
To Enter Official Rules Prize Agreement Publicity Release Challenge Summary