Smart Construction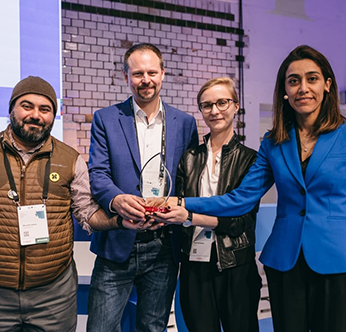 The Round 1 winners of the Smart Construction Challenge were announced at Bosch Connected World on May 15, with a Joint Award presentation for four entries. These winners received special recognition from the judges for their joint Construction Warranty use case. We are currently planning Round 2.
Overview
In the Smart Construction Challenge, design and implementation organizations compete globally on challenges with real-world customer requirements. The focus of the Challenge is to advance real-world validation of Smart Construction applications and solutions in the Industrial Internet, and to bring together cloud, edge, fog and IoT technologies.
Download the Round 1 summary white paper authored by IoT research firm Mach Nation.
About the Competition
The main goal of this initiative is to jointly develop solutions which provide real value-add to the construction industry, based on direct user feedback and field trials. The Industrial Internet Consortium and its partners is aiming to build an ecosystem which will jointly bring the new solutions to the market.
The competition will be looking at the complete property lifecycle, from the initial planning to construction to operations by a Facility Management Company (FMC). A key assumption is that the construction site will evolve over time, from empty site to a final, completed building. The Challenge will be articulated in different Use Cases, targeting Construction Assurance, Track and Trace for Onsite Logistics and Smart Worker Equipment.
The winning entries will provide the most innovative solution that enables companies to efficiently manage the flow of materials and equipment in construction, damage prevention as well as benefit construction workers while enhancing safety and quality of work environment. We believe these aspects to be essential for any lean construction project.
The Challenge will be working under the assumption that BIM (Building Information Modeling) is used as the foundation for planning, construction and operations, providing a digital representation of the physical and functional characteristics of the building.
It's important to keep in mind that the Challenge is not focused on who wins, but on who participates. Our goal is to help you create solutions that you can successfully bring to market. To get the most mileage out of the Challenge, we encourage you to promote and publicize your Challenge Journey.
Challenge Wall
Check out the latest updates from some of the innovative technology companies participating in our challenges.
To post, use #iicchallenges.
Entry Requirements
For Round 2, competitors are required to design and prototype their software/hardware systems on the Use Case-specific technologies. Each entrant will develop an overall reference architecture for their specific solutions.
We strongly encourage all entrants to plan a media promotion that tracked all of their activities for the duration of the Challenge. We encouraged them to prepare a short presentation that describes your solution, and to have a short demo ready in time for the events at Bosch Connected World in February 2020.
Evaluation Criteria
The judging criteria for the Smart Construction Challenge are as follows:
Business
How well does the proposal support the outlined use cases, provide value add for end-customers, and deliver innovation?
Technology
How well does the proposal describe how it will ensure scalability and realistic rollout in an enterprise environment? Proof of Concepts will be given bonus consideration.
Community Contribution
How well have the contributors supported the Smart Construction Challenge events reflected in the timeline?
The judges will also be evaluating the following:
Meeting Customer Requirements
How is your proposal addressing the use cases and pain points identified for this challenge?
Shortening Time-to-Money
How does your proposal, if built-out to production scale, lend itself to a rapid time-to-money (TTM)?
Decentralization
How does your proposal contribute to the technological design of a decentralized  ecosystem by proposing and building common infrastructure operation (DLT, multiparty computation), software and hardware architectures, standards, reusable components, etc.?
Multi-domains
How does your proposal integrate separated domains along the way? (e.g., lodging, food, commerce, energy, public sector, etc.)
Industry Engagement
How has your team and team participants participated in industry-related marketing and technology activities including industry hackathons, challenge-related activities in Europe, trade shows, stopping by the entrant's HQ for a demo, meeting the entrant's team to work on the car or systems, etc.?
Competition
How does your proposal support cooperation within an IoT and distributed ledger community that might be comprised of companies that traditionally compete?
Technical Logistics and Requirements
As BIM (Building Information Modeling) is assumed to be the foundation for planning, construction and operations, a key goal of the Challenge is to examine in how far Distributed Ledger Technologies (DLTs) would be suitable to support a de-centralized approach to managing BIM data. This leads to explore de-centralized data marketplace or similar mechanism, which enables the selective availability of BIM data, as well as writing events back to the BIM model. This mechanism will have to ensure that different visibility levels for the BIM data can be ensured.
Building on such an innovative data management infrastructure, each team shall select one of three use cases: Construction Assurance, Track and Trace for Onsite Logistics and Smart Worker Equipment.
Since the Challenge operates under incomplete information, which is inevitable when opening new frontiers and creating a new marketplace, the Challenge will reward those who are able to work on defining and clarifying the space itself and building the tools for themselves and for others.
Therefore, it will be a requirement for entrants to join the Challenge Working Group, participate in a regular conference call, and work with partners and competitors to define the Use Case's technological features.
More details are provided on conference calls and during the hackathons, and other channels that will be agreed upon on the calls.
Awards
For Round 1, four winners were presented a joint award at Bosch Connected World.
Future winners will be invited to a real pilot project at a construction site provided by one of the sponsors. 25,000 Euros award money will be awarded to each winning team to fund the pilot project.
In Partnership With:

Judicial Committee
The judges for the competition represent Bosch, Liebherr, TÜV and Züblin. They will be supported by representatives from the Industrial Internet Consortium, MachNation, and the Trusted IoT Alliance.
Application Details
Anyone can submit a proposal, including systems integrators and startups, and TIoTA and IIC members. For complete background information and technical detail on the Smart Construction Challenge guidelines, competition set up and use cases, please review the following document before submitting your entry.
Optional Entry Elements
Submitting a video with your entry is highly recommended. The video should provide insights into the work you did for the challenge, not just advertise your solution.
Submitting Code and Proof of Concept results is also recommended.  A high-level overview is fine.
Challenge Overview