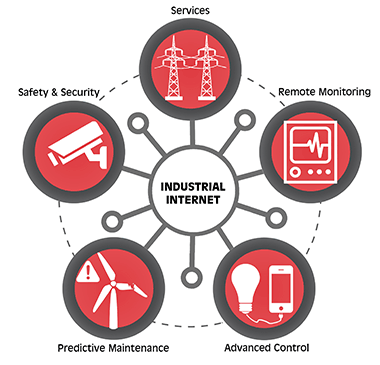 Productivity and the Industrial Internet
The energy system is complex with interconnections between infrastructure, processes and applications. New applications, enabled by the Industrial Internet, are being built to connect fielded assets with data analytics and reporting in an effective system, ultimately creating jobs and meeting the growing global demand for energy.
The Industrial Internet Consortium is bringing together global energy leaders to discuss requirements, gaps and opportunities for leveraging the data that is building up within and around our energy systems, and to use that data to increase production and decrease costs.
Today's Industrial Internet Consortium members are involved in almost every segment of the energy infrastructure:
Production - renewables, natural gas, Hydraulic fracturing, oil
Distribution - pipelines, power grid
Data infrastructure - networking, security, data storage, sensors
Analytics - diagnostics, prognostics, coalbed methane

We have case studies to share, lessons learned and opportunities to work together.
Remote Monitoring
The Industrial Internet brings intelligence to remote operations to enable operators to visualize and monitor production environments and provide advanced analytics to optimize operations. Operators can utilize the technologies to reduce downtime, cut operational costs, and ensure safety and compliance, all without needing to directly monitor the systems themselves. 
The Industrial Internet in Action:
Predictive Maintenance 
One of the biggest challenges for energy companies is maintaining the performance of their equipment. Not only are the assets aging, but they also face the extremes of weather. In the Industrial Internet, unplanned downtime is minimized. Predictive analytics identifies impending equipment problems early and helps avoid unexpected shutdowns and catastrophic failure. The software automatically and continuously identifies what is going to fail and the cause of the failure before it happens, resulting in more productive systems.
Advanced Control
The Industrial Internet is driving new generations of advanced control for energy systems through technologies, connectivity and interoperability. Software-defined machines, sensor fusion across wide areas and data interoperability lay the foundation for new forms of monitoring, control and optimization to enable maximum operational efficiencies. Today, more capable sensors, high-bandwidth connectivity, and advanced algorithms are leading to advances in control systems. Performance and environmental intelligence can be deployed at any level from the sensor to the cloud to enhance overall system performance.


Safety and security 
Industrial Internet solutions provide energy companies with ability to enhance and protect their systems through fire detection, guarding against terrorist threats, and ensuring regulation compliance. Through constant monitoring and data analytics, the Industrial Internet is able to detect many problems before they occur, preventing costly and often dangerous incidents resulting from mechanical or systems failures. Highly advanced firewalls and security features protect businesses from virus and hacker attacks, ensuring the safety of the companies' operations and finances. Industrial Internet solutions also oversee matters of regulation, ensuring that companies remain safely compliant. 
For more information, please contact [email protected].
Additional Resources