KEEP ME INFORMED COMMUNITY FORUM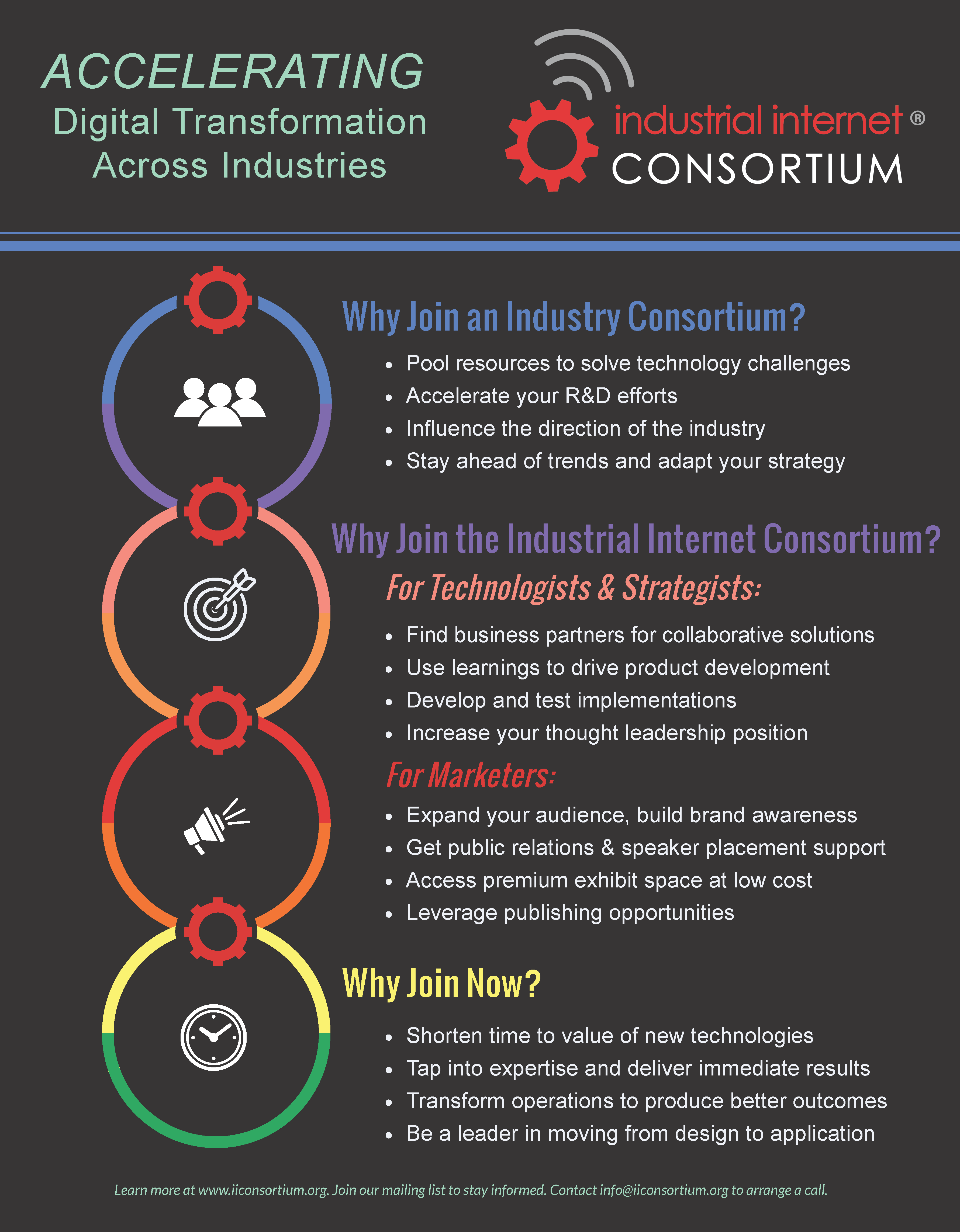 THE INDUSTRIAL INTERNET CONSORTIUM: A GLOBAL NOT-FOR-PROFIT PARTNERSHIP OF INDUSTRY, GOVERNMENT AND ACADEMIA
The Industrial Internet Consortium was founded in March 2014 to bring together the organizations and technologies necessary to accelerate the growth of the industrial internet by identifying, assembling, testing and promoting best practices. Members work collaboratively to speed the commercial use of advanced technologies. Membership includes small and large technology innovators, vertical market leaders, researchers, universities and government organizations.
Through multiple activities and programs, the Industrial Internet Consortium helps technology users, vendors, system integrators and researchers achieve tangible results as they seek to digitally transform across the enterprise. The resources of the Industrial Internet Consortium – developed collaboratively over the years by industry experts from around the globe and across all industries – give organizations the guidance needed to strategically apply digital technologies and achieve digital transformation.
Industry Leadership Councils
Our manufacturing-focused Industry Leadership Council is a collaborative council of senior executives from industry actively implementing, testing or using IIoT solutions in their manufacturing facilities. Its founding members include experts from major manufacturers in transportation, consumer products, agriculture, aeronautics and factory automation solutions.

The first Industry Leadership Council reflects a Smart Manufacturing focus. We have an open invitation to grow this Council and to start others in the Energy, Transportation, Healthcare and Smart Cities sectors.
IoT Challenges
IoT Challenges are public contests aimed at solving real problems and advancing the validation of industrial internet applications and solutions. In IoT Challenges, architects and solution providers compete to design industrial internet solutions that address high-profile, real-world problems. The Challenges are conducted over a period of several months, culminating in winners selected by a jury. Prizes for winners include a live customer Proof of Concept.
Test Drives
Test Drives are short-term rapid-engagement pilots for organizations seeking to adopt IoT technologies. Test Drives are poised to stimulate IIoT adoption across industry through accelerated implementation and learning. The Industrial Internet Consortium's neutral collaboration platform fosters partnering to address leading-edge IIoT use cases through 3-6 month pilot projects based upon the organizations' real problems.
Testbeds
A Testbed is an experimentation platform for conducting rigorous, transparent and replicable testing of new concepts, computational tools and new technologies. Our Testbeds offer a neutral platform for testing emerging technologies in a collaborative ecosystem of leading experts. This program began at the inception of the Industrial Internet Consortium and has grown to include over 20 testbeds.
Technology Special Interest Groups (SIGs)
A Special Interest Group is a group of members and non-members created for the purpose of collaboration with essential experts in a particular area of technology. Our first SIG is dedicated to Over-the-Air (OTA) Updates and seeks to create requirements for OTA solutions for the automotive industry, initiate technical validation projects, initiate new industry standards and provide an efficient platform to collaboratively shape the future of OTA.

In addition to the activities of the many Working and Task Groups, other offerings of the Consortium include our Resource Hub and its web-based tools, Industry Guidance and Best Practices, Events, Industry Workshops and other offerings in development. These essential resources bridge the gap between today's challenges and digital transformation. We seek to address today's challenges and foster the outcomes of digital transformation. Learn more.
Membership is open to those interested in advancing the adoption of the industrial internet. Visit the Become a Member page or subscribe to our newsletter for bi-monthly updates. Contact [email protected] for a personalized overview of the benefits of the Industrial Internet Consortium.
The Industrial Internet Consortium is a program of the Object Management Group®, Inc. (OMG®), a not-for-profit 501(c)(6) tax-exempt organization.
Resources
Meet The Staff