Digital Transformation
The IIC is transforming business and society by accelerating Industrial
Digital Transformation (DX).
IIC Approach to Industrial DX
Definition: Digital transformation in industry leverages connected things to transform processes and operations to produce better outcomes. The IIC is transforming business and society by accelerating Industrial Digital Transformation (DX).
Since the IIC was founded, the Industrial IoT has matured, with an explosion of use cases and applications that continue to transform business, industry, and society. With the continued maturation of IoT, there is a growing realization that it is one of several sets of technologies that are driving the transformation of business, industry, and society. As a result, the IIC has widened its focus to include this broader set of technologies and how they empower this digital transformation in industry.
The transformation of industries into digital industries can present major challenges in terms of security and regulatory pressures. DX is primarily a business objective. It is the innovative and principled application of digital technologies, and the strategic realignment of the organization towards the improvement of business models, industrial models, and processes and ultimately the creation of entirely new ones.
DX initiatives fall into three categories:
Those encompassing new business models and that affect both enterprise value propositions and efficiency,
Those that affect enterprise operations and support activities but not customer experience, and
Those that affect customer experience, but not operational efficiency.
The Industrial Dx Journey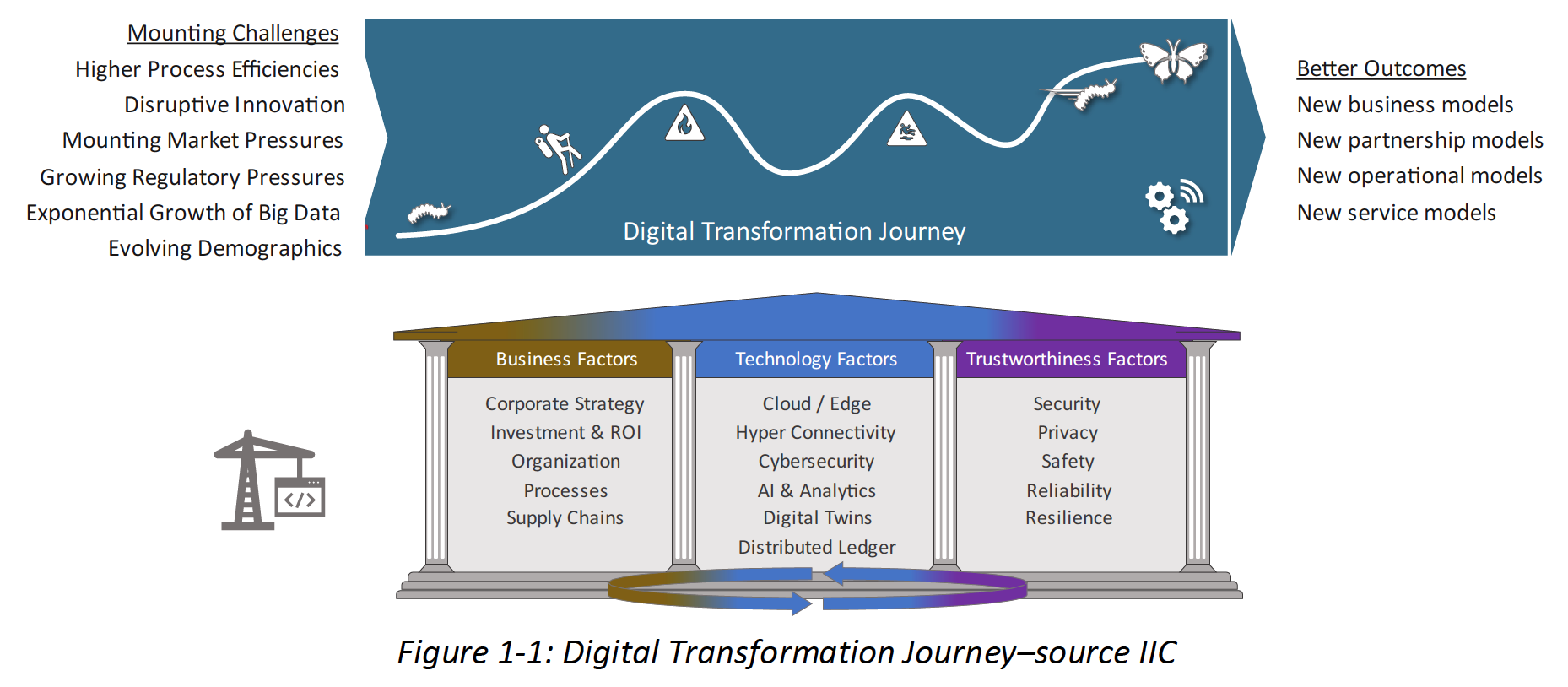 Think Differently
An industrial organization needs to set up innovation processes that are different from existing processes in several ways, including:
Exploring feasibility of applying new technologies and integrating IT and OT,
Fast" processes based on building a "minimum viable product,"
An "open" process of innovation dealing with the complexity of integrating OT and IT, enabled by cooperation among different divisions and firms,
Optimized processes for creating solutions for customers and delivering better customer experiences and/or outcomes, which can be achieved with a customer-centric mind set.
IIC members engaged in DX initiatives are at the forefront of this innovation.
Key Technologies Underpinning Industrial DX
Edge
Hyper-Connectivity
Data Security
AI and Analytics
Digital Twin
Distributed Ledger Technology
Human Machine Interface
Micropower Generation-Energy Harvesting
Additive Manufacturing
Data Sharing
Industrial IoT
Autonomous Robotic Systems
Innovation at the IT/OT Boundary
Servitization
KEY TECHNOLOGIES UNDERPINNING INDUSTRIAL DX
Infographic
Courtesy of Transforma Insights. View here.
First Steps For Adoption
Digital transformation is a type of disruption. It will unlock new possibilities in business models, value propositions and operational efficiency. Competitive dynamics will ensure that entire industries must transform to become a market leader or keep pace with market leaders, or face loss of market share. As ever, this kind of disruption is not risk-free.
By joining the IIC and engaging in our DX initiatives, you will gain a tangible market advantage by:
Learning from what the leaders in your industry are doing.
Investigating relevant developments in comparable industries.
Identifying your key use cases.
Planning for deployment.
Interested in learning more about the Industry IoT Consortium's resources around Digital Transformation? Stay informed by subscribing to our newsletter or emailing us.