See you in Reston, VA!
Employees of all Industry IoT Consortium member organizations are cordially invited to the Q1 Member Meeting to be held in Reston, Virginia – located outside Washington, D.C.
The three-day agenda will be packed with Keynotes, Working Group and Task Group meetings, Customer Case Studies, Member Presentations, and Hands-on Workshops.
You will have the chance to share ideas and collaborate with the leading digital twin experts around the world, including representatives from Dell, GE Digital, Johnson Controls, Lendlease, Microsoft, Northrop Grumman, and others.
This meeting will be co-located with our sister consortia, Object Management Group, Digital Twin Consortium, and Augmented Reality for Enterprise Alliance. There will be shared keynotes, industry and working group presentations, and social networking events. See firsthand how these communities are driving technological transformation to improve sustainability, efficiency, and resilience across industries. Members of Digital Twin Consortium may attend any public sessions of our sister consortia during the meeting week.
Watch this space for more information, we will post the agenda as soon it becomes available. We can't wait to see you there!
CANCELLATION POLICY:
If you need to cancel your meeting attendance and require a refund, please contact [email protected] no later than: Friday, February 17, 2023. No refunds will be issued after this date. You may, however, send another person from your company as your replacement and we will make the appropriate badge change.
Member cost
$645 Full Price

Hotel Information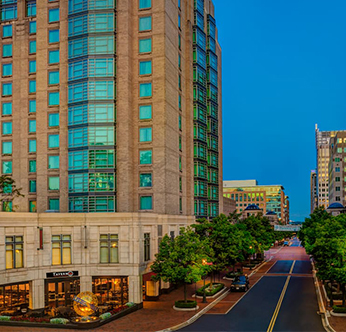 Hyatt Regency Reston Town Center Hotel
1800 Presidents St.
Reston, VA 20190 USA
Tel: +1 (703) 709-1234
ROOM RATES:
Single/Double Occupancy: USD$259.00
(plus 12% State & Local Taxes)
Discount Room Reservations Deadline: Friday, February 24, 2023
To reserve a discounted room - CLICK HERE.
If you require a Gov't Rate room - CLICK HERE.
AIRLINE AND CAR RENTAL DISCOUNTS:
For airline and car rental information and discounts, please call Travel Solutions, Inc., an American Express Travel representative at +1-800-878-6664 (USA and Canada only) or +1-508-366-2678 or you may fax them at +1-508-366-1386.