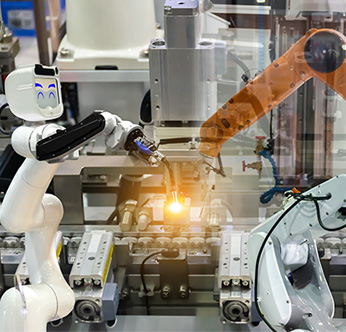 The State of Global Smart Manufacturing
A review of trends since 2020, looking ahead to future trends through 2030.
Wednesday, May 11th
9:00am CEST
Barcelona - Gran Via Venue Hall 4, Room CC4.4 / Zoom (Will be emailed to registrants)
The Global Industry Organizations (GIO) is an environment for discussion and open exchange among organizations, standards bodies, trade associations and consortia, that are involved in furthering the development and adoption of Digital Transformation technologies.
Panelists will be taking questions and answers during the discussion, making this a prime opportunity to learn from and collaborate with the innovators at the forefront of the global shift toward digital transformation in manufacturing.
Topics: AI, Operational Excellence, 5G, CMMC, OEE, Analytics, Predictive Maintenance, Skill Development, Supply Chains, The Edge in Manufacturing, AR, Industrial Data Space
Agenda
| Time CEST | Session | Speaker |
| --- | --- | --- |
| 09:00 - 09:30 | Arrival, Networking and Refreshments | - |
| 09:30 - 09:45 | Opening the GIO Smart Manufacturing Workshop | TBA |
| 09:45 - 10:00 | Address from the Global Industry Organizations | Farid Bichareh (IIC Smart Factory Task Group), Michael Linehan (IIC) |
| 10:00 - 10:30 | Neural Manufacturing | Farid Bichareh (IIC Smart Factory Task Group) |
| 10:30 - 11:00 | Panel 1: Connected Plants | Farid Bichareh (IIC), Abhijeet Kelkar (GEOOWN), Sultan Aziz (Johnson & Johnson), Bernd Reitmeier (Smart Factory Kunshan), Daniel Spahr (Stream Analyze) |
| 11:30 - 12:00 | Break & Networking | - |
| 12:00 - 12:30 | The Growth of IoT Market Forecast | Matt Hatton (Transforma Insights) |
| 12:30 - 13:00 | Panel 2: Global Business Trends Influencing Smart Manufacturing as of 2020 through 2030 | Michael Linehan (IIC), Javier Diaz (Aingura IIoT), Chaisung Lim (Korea Industrie 4.0), Douglas Ramsey (PI4.0 / CESMII) |
| 13:00 | Closing | Stephen Mellor (IIC), Farid Bichareh (Smart Factory Task Group) |
---