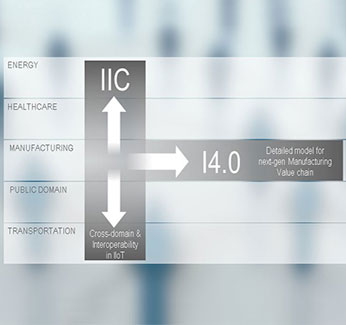 While the Industrial Internet Consortium advances the adoption of the Industrial Internet on a global scale with our cross-industry oriented approach, Plattform Industrie 4.0 has been coordinating the shaping of the Industrie 4.0-driven digital structural shift of German industry.
This cooperation is an important milestone in the global advancement of the digitalization of industrial production. In 2015, representatives from both organizations began meeting to:
Explore the potential alignment of their two architecture efforts
Understand the technical issues from both perspectives and
Reduce market confusion
Today, the Industrial Internet Consortium and Plattform Industrie 4.0 have developed an ongoing collaboration:
for the benefit of interoperability of Industrial Internet systems from the different domains to maintain a technical exchange
to identify mappings, differences and enhancements on both sides
to formulate requirements for standardization bodies together
to create a joint testbed for testing architectural elements
to work together to increase the adoption of the Industrial Internet
JOINT WHITE PAPERS
We are pleased to announcing the release of a joint white paper on architecture alignment and interoperability between the IIRA and RAMI 4.0. The joint white paper, Architecture Alignment and Interoperability, presents the mapping and alignment between the two leading reference architecture models, the Industrial Internet Reference Architecture (IIRA) and the Reference Architecture Model for Industrie 4.0 (RAMI4.0), published by the two organizations, respectively. It is the first substantial report on the joint effort between these two organizations since they started their collaboration about one and half years ago.
This white paper reaffirms the understanding of and documents the highly complementary nature of these two reference architectures: the IIRA addresses concerns about IIoT emphasizing broad applicability and interoperability across industries while RAMI 4.0 focuses mainly on manufacturing and the related value chain lifecycles in depth.