Journal of Innovation: September 2018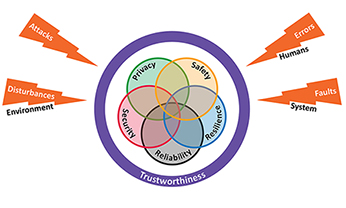 September 2018 Edition: Trustworthiness
The IIC's Journal of Innovation - the initiative of our Thought Leadership Task Group - highlights the innovative ideas, approaches, products, and services emerging within the Industrial Internet. The expertise, energy, and commitment of the members of the IIC are on full display in the collaborative effort of publishing the Journal. Within these pages, you will find the ideas and opinions of thought leaders of the Industrial Internet and gain a small window into how our members are setting the foundation for the future.
Our Industrial Internet Vocabulary Technical Report defines Trustworthiness as "the degree of confidence one has that the system performs as expected. Characteristics include safety, security, privacy, reliability and resilience in the face of environmental disturbances, human errors, system faults and attacks." This edition of the Journal of Innovation delivers a deeper view into Trustworthiness and its characteristics – working toward a permanent change in thinking around IIoT security.
We are pleased to share with you nine unique articles highlighting different topics under the Trustworthiness umbrella, an article showcasing the results of our Smart Manufacturing Connectivity for Brown-field Sensors Testbed, a synopsis of our insightful Key Safety Concerns white paper and an update of exciting IIC activities.
Table of Contents
---