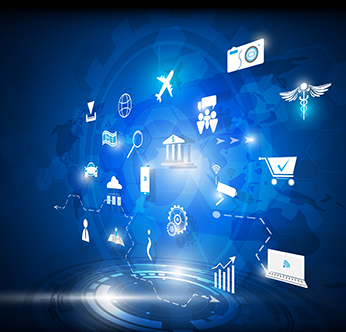 June 2020 Edition: Virtual Edition
The IIC's Journal of Innovation - the initiative of our Thought Leadership Task Group - highlights the innovative ideas, approaches, products and services emerging within the industrial internet. The expertise, energy and commitment of the members of the IIC are on full display in the collaborative effort of publishing the Journal. Within these presentations, you will find the ideas and opinions of thought leaders of the industrial internet and gain a small window into how our members are laying the foundation for the future.
The June 2020 virtual edition of the Journal of Innovation includes a series of webinars that offer organizations practical guidance on digital transformation, based on concrete examples. Digital transformation can help organizations redefine business processes, models and organizational culture, creating new opportunities and generating new sources of revenue.
We are pleased to share with you five unique presentations consisting of expert guidance contributed by industry leaders from IIC member organizations.
Table of Contents
---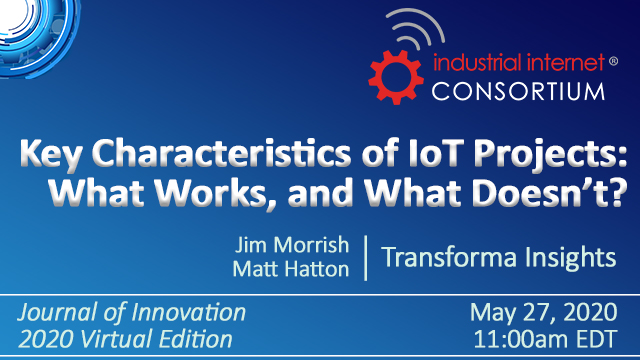 Transforma Insights' Jim Morrish and Matt Hatton present a detailed analysis of IoT projects, including assessments of business benefits and key drivers of complexity. They discuss how IoT technologies can be deployed alongside other digital transformation technologies, such as such as AI, Distributed Ledger and Edge Computing. They talk about the IIC Project Explorer tool, which helps organizations analyze the complexity of projects and links to IIC assets that support successful project execution.
---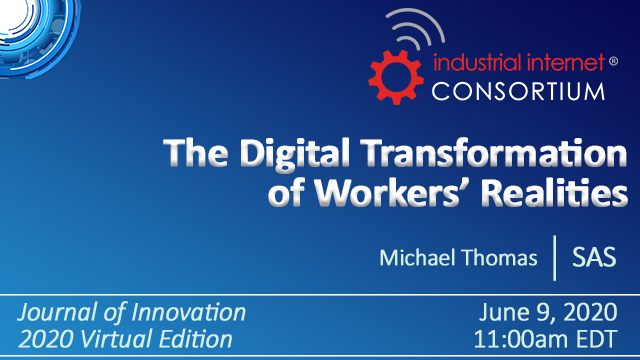 Michael Thomas of SAS expands on the concept of intelligent realities. IoT technologies, such as digitized tools and machinery, have only recently been part of workers' realities. When those digital streams are properly analyzed with streaming analytics and artificial intelligence and rendered with augmented reality (AR), workers' realities can be digitally transformed into intelligent realities.
---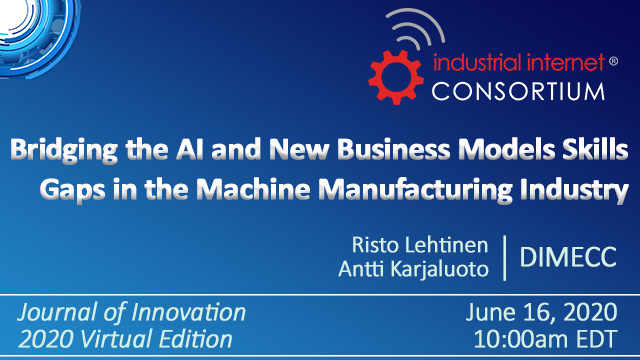 Risto Lehtinen and Antti Karjaluoto of DIMECC present a new learning concept – Business Model Academy. This learning solution focuses on educating participants about new digital business models and is being implemented with the University of Tampere in Finland.
---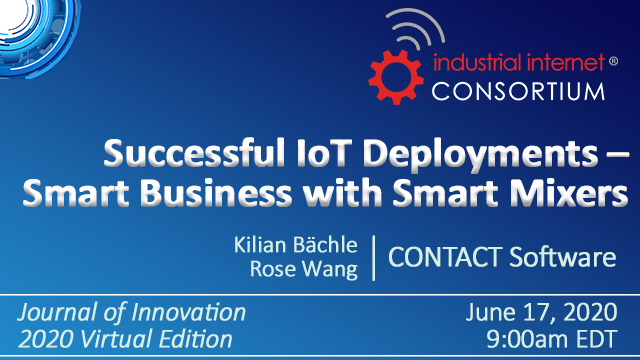 CONTACT Software's Kilian Bächle and Rose Wang explain how MIXACO Maschinenbau, a German manufacturer of industrial mixing machines, successfully implemented IoT technology within its assets and how IoT helped improve its business. The webinar includes a description of the implemented solution and the benefits for MIXACO and its customers.
---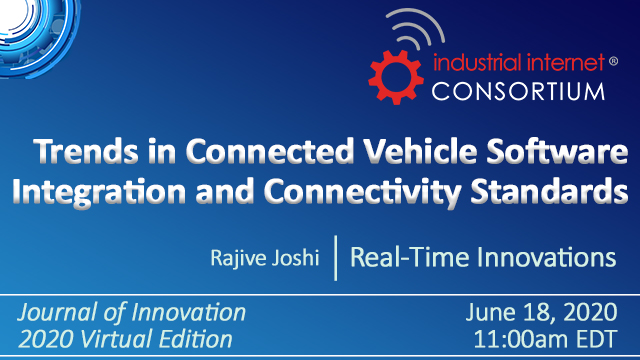 RTI's Rajive Joshi examines the evolution of automotive connectivity standards based on the connectivity stack model identified in the IIC Industrial Internet Connectivity Framework (IICF). Rajive classifies current and emerging automotive connectivity standards at the appropriate level and analyzes the implications for software integration and component interoperability. He also reviews connectivity standards for software integration and autonomy and explores their impact on connected vehicles' system software.