The Industry IoT Consortium Member Pavilion
Again in 2022, a group of our members will exhibit in the Industry IoT Consortium Pavilion. This year's pavilion will include a theatre area, which will allow our members and guests to deliver thought leadership. Reserve 1 of 15 pods, for the low price of €6,600
Available on a first-come, first-serve basis, this is a highly cost-effective way to present your organization as an industry leader to an engaged audience featuring the most qualified buyers and decision-makers.
Prime location on the show floor near the main auditorium.
An unparalleled opportunity to stimulate business together – at an all-inclusive, affordable price.
Pedestal includes 2 Congress passes, 10 Expo passes, furniture, lighting, a TV screen/monitor, wi-fi, exhibit graphics.
Industry IoT Consortium-hosted booth events, and a business lounge space.
Significant cost-saving via shared services, networking, and business opportunities in a branded/unified setting, opportunities to interact with buyers and media, plus a promotional boost and media coverage by joining our pavilion.
Fill out this form to request information on reserving your pedestal in the pavilion.
Below is a rendering of the 2019 pavilion. This year's pavilion will look similar.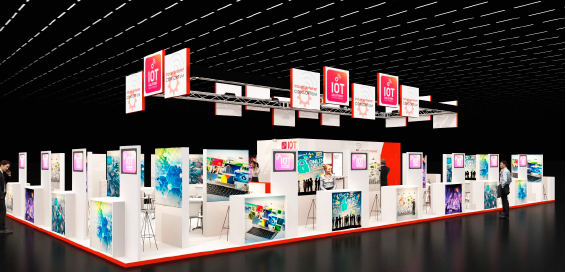 Members Speaking at the Congress
Many IoT thought leaders will be representing the Industry IoT Consortium from a wide variety of fields that includes manufacturing, energy, transportation and more. The Full  Congress agenda and list of speakers will be announced in mid-February, 2022.