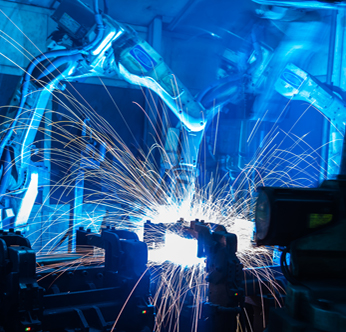 As we head into the next decade, the manufacturing industry remains critically important to both developing and advanced economies. Bringing together both opportunities and challenges, innovation and competition, giant multinationals and smaller manufacturers, the global industry picture is diverse and moves at different speeds. Regardless of areas where change is happening, the various components of the industrial Internet (aka Industry 4.0) remain at the center of this transformation.
How Smart is Your Factory?
Digital transformation in manufacturing is hard work. It's a combination of traditional manufacturing processes enhanced with new advancing technologies, working together to drive manufacturing forward and address inefficiencies. Are you optimizing your supply chain? Are you predicting disruptions and downtime? Are you improving worker safety with environmental sensors, wearables and tracking tools? Can you monitor assets and test new functionalities using digital twins? Do you deploy digital video analytics to ensure high standards of product excellence? Technologies like these are advancing the manufacturing industry forward.
How much would it improve your digital transformation outcomes if you could access tools and know-how from one, vendor-neutral trusted resource?  At the Industrial Internet Consortium, we understand that digital transformation is a multi-technology, multi-vendor process. IIC membership provides access to key resources, thought leaders and industry experts, tools for assessing cyber-security maturity and many additional resources that can help make your digital transformation process more innovative, scalable and agile.
In 2018, the manufacturing-focused Industry Leadership Council was launched with a core group of innovative strategists representing eight manufacturing organizations who are setting the vision for next generation solutions in the manufacturing industry. These organizations are instrumental in furthering our understanding of industry IoT adoption successes and obstacles, defining and refining implementation best practices and offering expert guidance. We are expanding our Industry Leadership Councils – inviting additional participants to join the manufacturing-focused Council and launching additional Councils focused on other industry sectors. Click the button in the left column to learn more and apply to participate.
By participating in the Industrial Internet Consortium you can:
Develop end-to-end solutions through a vendor-neutral collaborative platform, because no one enterprise can do it all.
Learn about new, cutting-edge technologies, processes, models and organizations that can help your team gain competitive advantages.
Reap the benefits of connecting with global leaders in cross-industry technologies such as cyber-security, cloud application platforms, edge computing, artificial intelligence and more.
Network with industry experts in digital twin platforms, applying data analytics for predictive maintenance and improving plant efficiencies, artificial intelligence, connectivity, data quality, operating security and more.
Discover ways to apply and scale the technology that exists today, while preparing for the next wave of IoT innovation.
Join our Manufacturing email list for the latest news and updates on the work of the IIC within the manufacturing industry, including technical publications, webinars and educational events.
For more information, please contact [email protected].