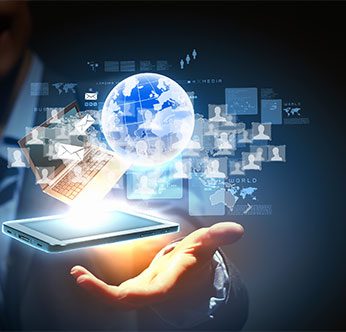 The Digital Transformation (DX) Working Group is an umbrella group that provides transformational guidance and best practices for all aspects of developing and operating Digital Transformation solutions: innovation, vision and strategy development, business-case creation, architecture design, technology selection, implementation, testing, rollout and operations.
The rapid emergence and convergence of new digital technologies have the potential to disrupt how organizations create and deliver value in the market. Organizations must be proactive about leveraging these technologies for the purpose of transforming the way they operate, in order to maintain relevance and successfully compete in the market. Organizations must act now or risk becoming irrelevant or extinct.
The goal of this Working Group is to help organizations leverage the full potential associated with digital transformation technologies, by increasing return on investment, managing project risks more efficiently, and establishing a foundation for evaluating solutions and their compliance. The Working Group will also provide a foundation for evaluating solutions and their compliance with trustworthiness goals.
Its activities fall under five major themes:
DX Strategy: Identify and prioritize Digital Transformation opportunities, analyze business drivers and requirements, assess business outcomes, prepare business cases and evaluate viability of new business and value models.
DX Context: Analyze the impact of Business Change factors such as Corporate Strategy and Program Development, and Governance Factors such as the impact of laws and regulations, jurisdictions, standards, and best practices.
DX Solution Design: impact of the above on best practices and methodologies for using and implementing the Industrial Internet Reference Architecture including trustworthiness and system characteristics.
DX Project Management: How to plan, develop and deploy a DX solution, organizational aspects and IT / OT collaboration, assets management and production line set-up. Solution lifecycle management challenges include deploying, operating, upgrading, modifying, consolidating, scaling up and productizing.
Identify and promote within the IIC organization the market potential for DX.
The objectives and goals of the Working Group build upon and complement the results delivered by other Industrial Internet Consortium Working and Task Groups, including the Industrial Digital Transformation Task Group which focusses on more detailed technical considerations associated with DX. The methodology guidance and best practices produced by the Digital Transformation Working Group will support the strategy and business case perspective of digitally transformative solutions as well as the project implementation perspective.
Co-Chaired by:
Digital Transformation Task Groups:
Business Strategy: The Business Strategy Task Group is identifying and analyzing, at a high level, all of the key issues that an enterprise will need to address to fully exploit IIoT concepts for commercial (or other) gain. Chair: Jim Morrish, Transforma Insights
Ecosystem: The Ecosystem Task Group is responsible for helping members leverage the Industrial Internet Consortium and its ecosystem for business benefit. Co-Chairs: Stan Schneider, Real Time Innovations (RTI); @RTIStan; Bassam Zarkout, IGnPower
Use Cases: The Use Cases Task Group works toward collecting and developing specific use cases that focus on issues in industrial domains and/or possess technological and market relevance. Visit our Use Case Repository on the Resource Hub.