The NAP Technology Showcase
Automated negotiation technology can help reduce the workload for companies that conduct frequent, complicated negotiations. In day-to-day work, revisions, additional orders, delivery date changes, and production troubles occur all the time.  Of course, the constant adjustments are time-consuming for all parties involved. The Negotiation Automation Platform Technology Showcase features sophisticated artificial intelligence (AI) to help solve this problem.
The showcase enables flexible, automated negotiation for detailed trading by matching the requirements of each business counterpart. It does this across manufacturing supply chains through AI-based negotiation technologies and real-time production and logistics data.
The Showcase Team
The participants in the showcase are NEC Corporation, Fraunhofer IOSB, Korea Electronics Technology Institute (KETI), NEC's BIRD Initiative, National Institute of Advanced Industrial Science and Technology (AIST), Toyota Tsusho, and OKI Electric Industry Corporation.
Vision
Our vision is to establish a next-generation platform that enables flexible, automated negotiation between companies. The AI agents should be capable of:
Evaluating more granular trading conditions based partly on considerations such as industrial IoT edge intelligence.
Automatically negotiating agreeable trading conditions for all parties.
Description
The Negotiation Automation Platform employs AI to send requests and receive replies. It then selects from the options, with humans in the loop if necessary, to complete the transaction for both purchase and shipping. This YouTube video provides a demonstration of the technology.
Contribution
This Technology Showcase offers the following operational efficiencies:
Contributes to the United Nations Sustainable Development Goals.
Increases the efficiency of the supply chain, cutting costs and contributing to carbon neutrality.
Automates complicated, but tedious, negotiation tasks allowing people to devote time to more creative and rewarding tasks.
Covers many industries from manufacturing through logistics.
Solution
As shown in the diagram below, the solution enables flexible negotiations to be performed automatically, dynamically,  and with more sophisticated trading conditions. It impacts all aspects of the manufacturing supply chain.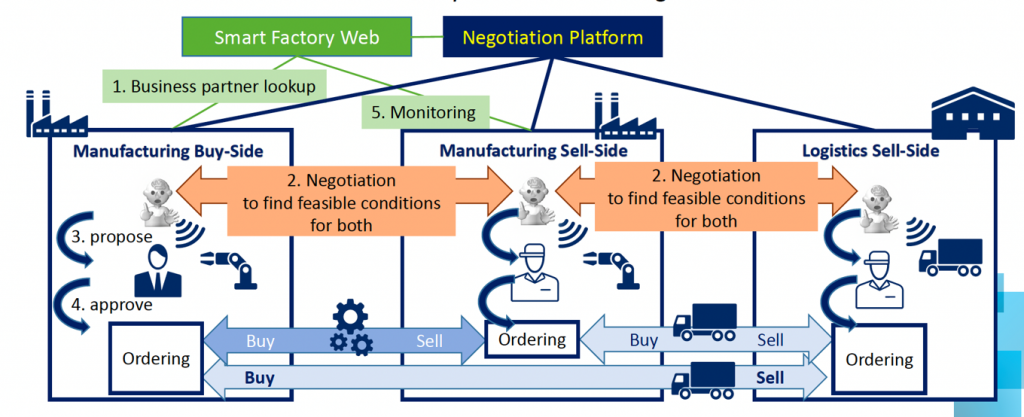 Deployment
The platform is deployed and in use:
To scale its deployment, the Automated Negotiation SCM Consortium has been established.
The platform will be available to the public via download.
We wish to establish negotiation interoperability via standardization, and create draft standards for negotiation protocols. This will allow independently implemented AI negotiation agents to negotiate with each other and data structures for operational information.  In this way, independently implemented functional modules can be seamlessly integrated.
---