The Industrial Internet Consortium Journal of Innovation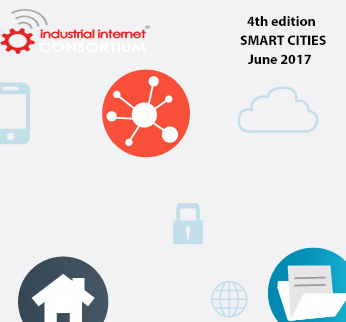 The Industrial Internet Consortium's Journal of Innovation - the initiative of our Thought Leadership Task Group - highlights the innovative ideas, approaches, products, and services emerging within the Industrial Internet. The expertise, energy, and commitment of the members of the Industrial Internet Consortium are on full display in the collaborative effort of publishing the Journal. Within these pages, you will find the ideas and opinions of thought leaders of the Industrial Internet and gain a small window into how our members are setting the foundation for the future.
The theme of the June 2017 edition is "Smart Cities," a theme selected by the Industrial Internet Consortium's Thought Leadership Task Group and supported by contributors throughout the membership. Download individual articles directly from the table of contents below or download the complete June 2017 edition of the Journal of Innovation for free via the button below.
TABLE OF CONTENTS FOR JUNE 2017 EDITION
"Intelligent Transport Solutions for Smart Cities and Regions: Lessons Learned from an 18-month Trial"

Rafael Cepeda, InterDigital Europe
Ken Figueredo, InterDigital Solutions

"Outcomes, Insights and Best Practices from IIC Testbeds: Communications and Control Testbed for Microgrid Applications"

Brett Burger, National Instruments
Joseph Fontaine, Industrial Internet Consortium

"How IoT Can Significantly Improve Healthcare in the Context of Smart City"

Nitin Gupta, TATA Consultancy Services

"Neuromarketing - The Art and Science of Marketing and Neurosciences Enabled by IoT Technologies"

Christopher Arthmann, NEC Innovation Division
I-Ping Li, Deloitte

"Outcomes, Insights and Best Practices from IIC Testbeds: Track and Trace Testbed"

Michael Dietz, SAP SE
Andreas Mueller, Bosch
Dirk Slama, Bosch Software Innovations
Joseph Fontaine, Industrial Internet Consortium

NEW! Featured Sections

Featured Working Group: Business Solutions and System Lifecycle Working Group
Member Resources
Letter from Steering Committee Chair and Vice Chair
Testbed Corner
IIoT Events Update
Selected Blog Post on Smart Cities
Coming Soon
Have questions or comments on the Journal of Innovation? Email us!