By Emil Berthelsen, Principal Analyst, Machina Research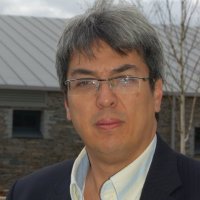 Last week, I had the privilege of joining the "stage" with Dr. Richard Soley, Executive Director of the Industrial Internet Consortium and Mr. John Magee, Chief Marketing Officer of GE Software on a webinar hosted by the Industrial Internet Consortium on "Putting the Industrial Internet to Work: The Opportunities and Challenges of Enterprise IoT". What follows are some perspectives of Machina Research's on the topic.
Smarter, connected products with advanced analytics are revolutionizing industries. With machine-to-machine, we noted operational efficiencies and performance monitoring reaching new heights, introducing real-time information and a richer application and data environment. In the Industrial Internet, a next step in the evolution path of connected things, enterprises are leveraging this convergence of operational and information technology, and designing new and innovative products and services. However, these emerging market opportunities do have their own challenges, and CEOs are best prepared by recognizing the new Enterprise IoT agenda that has been put on the table.
Figure 1: Changes in Enterprise IoT (Source: Machina Research, 2014)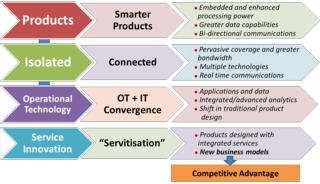 Transforming today's industries
Products have become "smarter", embedded with greater processing and storage capabilities. These smarter products are no longer isolated units but "connected" through ubiquitous network technologies which, in most cases, deliver bi-directional and high bandwidth capabilities, critical for remote management and actuating purposes and richer communications. And the transfer of data is no longer "just" in batches -- the game changing features are real-time data transfers and increased processing speed of that data with advanced analytics' tools applied.
In traditional M2M, the analysis of data was designed as a historical activity, analysing reams and reams of data extracted, transformed and loaded. In the Industrial Internet, with new streaming technologies and advanced analytics, this data is processed and "looped" back into operational processes with actionable insights within milliseconds. In some corners, this has resurrected discussions about advanced automation and/or self-managed systems and Artificial Intelligence (AI), and with more and more analytics' tools becoming available (such as Watson services through IBM BlueMix), this is definitely a developing and exciting market to be watched. What is clear is that these smarter, connected products with advanced analytics have firmly enabled the "servitization" of products as a competitive differentiator for companies.
Servitization becomes a competitive differentiator
"Servitization" delivers some of the most significant and innovative opportunities from smarter, connected products. The concept, referring to the delivery of services as an integral part of providing products has started to take shape. Emerging examples include predictive maintenance services, usage based billing models, warranty management and mass customisation (in production design).
For manufacturers of product, a substantial range of benefits are realised. Products and services become integrated in one proposition, and extended customer relationship models develop with these services. These extended customer relationship models will certainly begin to change existing value chains and market models, and extend revenue opportunities over a significantly longer period for the manufacturer. As an example, consider the connected home appliance now sold with a wide range of services which directly strengthen and extend the direct relations between the owner of the machine and the appliance manufacturer; these services may include service management, feature updates, and product recommendations.
A new agenda to operationalize Enterprise IoT
As enterprises recognise these opportunities in Enterprise IoT, and more and more begin to explore the field of smarter, connected products, particular challenges will appear as common issues. Here are a few:
How to turn identified business ideas in Enterprise IoT into tangible and operational results?
How to strike the balance between long term strategic objectives and short term solutions?
How to identify the significant opportunities in Enterprise IoT, and prioritise efforts appropriately?
How to overcome issues of complexity and lack of skills in Enterprise IoT to deliver new products and services?
How to structure these new customer relations and manage disintermediation?
How to exploit data assets without compromising customer data privacy and data ownership?
This list is far from exhaustive, and as enterprises begin to "operationalize" the Industrial Internet, CEOs should be aware of some of the strategic, tactical, and operational issues that will emerge.
For many enterprises at the strategic level, it is whether or not the business can "afford" not to address Enterprise IoT. For other companies further along the path, the question of how to achieve this transformation has already started. Examples such as acquisitions of ThingWorx and Axeda by PTC will take place, and Machina Research expects many new and innovative acquisitions and partnerships between product manufacturers and IoT service enablers will emerge in the coming months. Is this on your Enterprise IoT agenda?